Orpheum Theatre Boston | Boston, Massachusetts
Formed in 1995, American rockers Blue October, found their breakthrough as their singles "Hate Me" and "Into the Ocean" became a commercial success. With nonstop releases since the early 2000s, Blue October continues to rock the scene with their newest album "Spinning the Truth Around" released in October 2022. As the album's release promises three installments, fans can expect big surprises from the rock band in the coming months. As they celebrate a new era, Blue October has started marking tour dates, hitting the stage at Orpheum Theatre Boston on Saturday, 18th of March 2023. Book your tickets now!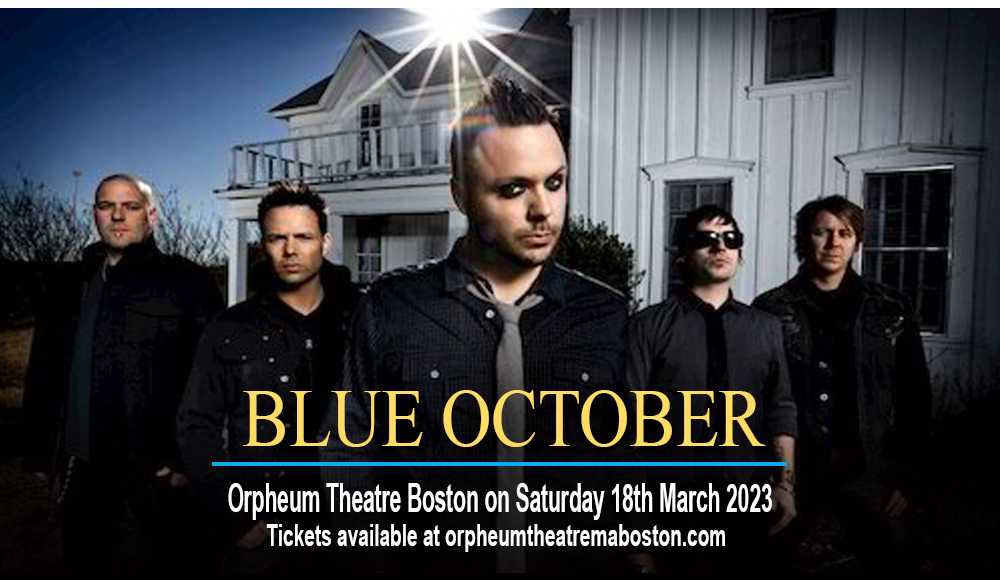 Rooted in Houston, Blue October was formed in 1995 by lead singer Justin Furstenfeld. The band released its debut album "The Answers" in 1998, garnering attention and positive reviews. In the early 2000s, Blue October started to make bigger waves through its succeeding releases "Consent to Treatment" and "History for Sale", gaining popularity and frequent radio spins. The band later found their big breakthrough with their 2006 single "Hate Me" off of their third album "Foiled".
With various TV appearances and positive acclaim, the band follow-up their success with another hit single "Into the Ocean", topping various charts as well.
Gaining a new audience with their two hit singles, Blue October continued to introduce their signature post-grunge and modern rock anthems in their succeeding records. Since their big break, the band released 7 albums, making waves in the alt-rock and post-grunge scenes. They released a slew of crowd-favorite singles including "The Chills", "I Hope You're Happy", "Oh My My", "Jump Rope", and "Dirt Room".
Their newest record "Spinning The Truth Around" will be released in three phases, the first of which came out in October of 2022. It featured their new singles "Where Did You Go I'm Less of a Mess These Days", "Spinning the Truth Around", and "Shut Up I Want You to Love Me Back".
As the band gears up for their succeeding releases and plots tour dates in support of their new material, don't miss out on this chance to rock with the one and only Blue October live on stage by booking those tickets now!