Orpheum Theatre Boston | Boston, Massachusetts
If your concert scene life was 'silent all these years', alt-rock's femme fatale, Tori Amos will bring waves of songs and sounds as she goes from 'Ocean to Ocean', with tour Dates that include her much-awaited gig at the Orpheum Theatre Boston on Saturday 14th May 2022. Lauded by many as one of Lilith Fair's powerhouse female artists, Tori Amos will now take her 16th album release "Ocean to Ocean" for a test drive on the live concert stage and bring a surge of standing o's with her biggest chart-toppers like "Crucify", "Silent All These Years", "God", "Cornflake Girl", "Caught a Lite Sneeze", "Professional Widow", "Spark", "1000 Oceans", "Flavor", "A Sorta Fairytale", and many more. Don't let this spark of joy pass you by. Click on the 'Get Tickets' link and book your tickets now!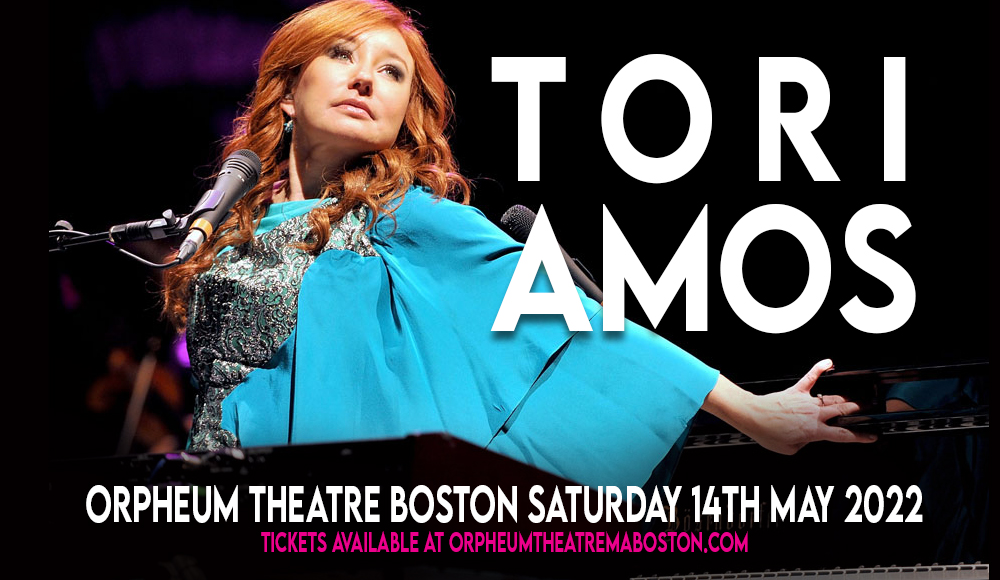 Tori Amos was a child prodigy, a musical genius who won a full scholarship to the Peabody Institute at Johns Hopkins University at the age of five, the youngest person ever to have been admitted. But Tori was headed in a different direction; she had to start from scratch so to speak. At thirteen, she began playing at gay bars and piano bars and submitting homemade demo tapes that her father regularly sent out to record companies and producers.
Tori Amos got the attention of record labels with a band she formed called "Y Kant Tori Read". But Tori sailed on her own and released her official debut album titled "Little Earthquakes" — a commercial and artistic breakthrough, that landed the British charts in January 1992 at Number 15. From chart-topping singles and formidable live shows which include her regular and much-in-demand presence at the Lilith Fair, Tori Amos was also reaping awards which include five MTV VMA nominations and eight Grammy Award nominations, and a prestigious win of the Echo Klassik award for her Night of Hunters classical crossover album. She is listed on VH1's 1999 "100 Greatest Women of Rock and Roll" at number 71.
This 2022, she unleashes her 16th studio album "Ocean to Ocean", sending waves of euphoria among fans across the Atlantic.
In a statement, she said: "We have all had moments that can knock us down. This record sits with you where you are, especially if you are in a place of loss. I am fascinated when someone has gone through a tragedy, and how they work through their grief. That is where the gold is. When somebody is actually at that place, thinking 'I'm done,' how do you reach that person? Sometimes it's not about a pill, or a double shot of tequila. It's about sitting in the muck together. I'm going to meet you in the muck."
And she's meeting you at the concert stage too! Be there to dive, wade, or even drown in the sounds that can only come from a powerhouse artist like Tori Amos. Get your tickets now!