Orpheum Theatre Boston | Boston, Massachusetts
Calling all fans of progressive rock!! The Orpheum Theatre Boston is pleased to announce a visit from one of the genre's greatest!! That's right, on Monday 8th April 2019, DREAM THEATER come to Orpheum Theater Boston!! The Distance Over Time is both in support of their new album and in celebration of 20 years of "Scenes From A Memory," their stunning 5th album. Celebrate with them live – grab tickets today!!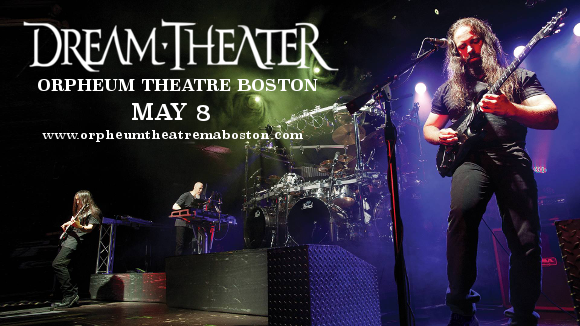 Dream Theater need no introduction – as one of the giants of the progressive rock genre, their sound has shaped the works of countless other artists since. "Distance Over Time," is Dream Theater's first full-length studio in five years, and the time taken to work on the album really shows in the quality of the record, which has been a huge hit with the band's audiences, and charted in the top ten of album charts around the world. Unsurprising to most fans, the album was also met favourably by critics, with Kerrang stating that; "Sacrificing none of that trademark musicianship, this is Dream Theater at their most accessible, and they lose nothing for it".
If anything, it'll gain them a few new fans as well as keeping all the old ones more than satisfied. Don't miss out on the chance to catch it all live – get your tickets TODAY!!